organisational structure and contact persons
On this site you will find information about the structure of the centre. Furthermore, you will also find contact details of our employees.
Organisational sturcture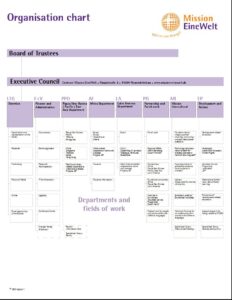 The centre is divided in eight fields: There are three desks (Africa, Latin America and Papua New Guinea / Pacific / East Asia Desk) for our international relationships to our partner churches, two desks (Development and Politics, Mission and Intercultural Studies) for the educational mission, one desk for the Partnership and Parish Work, one desk for the administration of the centre and – last but not least – the Head Office. Public relations work is part of the Head Office.